Going to Hawaii? You will not be bored! With six major islands, there are plenty of options for island hopping with a variety of activities, wildlife and natural beauty on each island.
If you can make time to spend on the Island of Hawaii, often known as the Big Island because it is nearly twice as large as all of the other Hawaiian islands combined, we have a bucket list of activities for you!
The Big Island Bucket List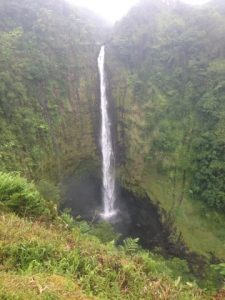 The "Must See" attraction on the Big Island is the Volcano National Park. This park has Kilauea, an active volcano. Some lucky visitors actually see flowing lava – quite a sight in the evening! You'll spend the day hiking, touring the crater rim on Chain of Craters Road, taking once-in-a-lifetime photos on the volcanic overlooks and more. If you work up an appetite, check out the Volcano House restaurant or the Volcano Winery. These dining (and drinking) experiences will not disappoint!
Akaka Falls State Park – This state park boasts a huge waterfall in the middle of a rainforest! The waterfall is 442 feet tall
and will be a gorgeous backdrop to photos!
Rainbow Falls – Another must-see waterfall! Easy to access as it's near the town of Hilo. Explore the natural beauty, create memories and get great pictures!
Hapuna Beach is the best white sandy beach on the island, and there are not too many on this island. Many of the beaches are lava rocks making Hapuna beach a favorite for visitors. Beautiful clear water, swimming is great, lots of space to spread out.
The black sand beach, Punalu'u, is a sight that is truly unique. The black sand is made of black fragments of lava, and is a favorite hangout of sea turtles! The beach is lined with beautiful palm trees. Truly beautiful!
Pu'uhonua o Honaunau National Historic Park – This very old Hawaiian ceremonial structure offers an interactive, living history of the island. Extremely neat place that will please those with an interest in history as well as those tourists just interested in history for the day!
The big island is home to many coffee farms, several that offer tours! Some of our favorites include Hula Daddy and Mountain Thunder.
Need a day to just relax for the day? Shop your way through two great cities – Kona and Hilo!
Coffee isn't the only thing brewing in Hawaii – the Kona Brewing Company offers a different taste of the island with options that include Liquid Aloha, Big Wave Golden Ale, Lavaman Red Ale and a line of seltzers with an island vibe!
And when in Rome, er…Hawaii – you can't miss out on one of the BEST luaus in Hawaii – the Royal Kona Luau at Royal Kona Resort. Ocean front, delicious food, amazing show, dancing, activities and more!
If you need help planning an amazing Hawaiian adventure, we can ensure that you make the most out of your time, no matter what islands you choose to visit!
Written By: Laura Bielen